We are excited to share that Artualize Gallery has launched their fundraising project where half of the proceeds from the sale of 20 paintings would go to THK nursing home.
Support us here: https://store.artualize.com.sg/thk
Via PAYNOW (digital bank transfer)
Using your mobile banking app, donations can be made to us via PAYNOW by scanning the QR code below or enter the UEN number: 201323219Z.
For tax deduction, please include your Name, NRIC and contact number in the reference box and send your donation details to Finance email: finance@thknh.org.sg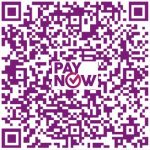 Online
Donations can be made through charity websites at giving.sg or give.asia
Walk-In
(By cash / cheque):
Donations can be made at our reception counter at Level 1 at THK Nursing Home @ Hougang, located at 48 Hougang Avenue 8, Singapore 538793.
In-Kind:
Donation Request List 2021
These are the items regularly used and consumed by our elderly residents (items 1 to 8)
Adult Diapers (Tena Brand – Sizes S, M & L)
Ensure Milk (Vanilla) powder for elderly to gain weight
Johnson & Johnson Baby Bath (1000ml)
Coffee (3 in 1)
Tea (Teabags)
Milo or Ovaltine (powder refill packets preferred or 3 in 1 packet)
Nutre Milk Cereals (in sachets)
Nestum (in sachets)
Biscuits (any type of slight cream is OK e.g lemon or wafer types) – in tins or packets
Tissue boxes
Toothpaste & toothbrushes
Disposable shavers for male residents.
Glucerna Milk powder for elderly with diabetes.
You can choose to purchase from any suppliers or supermarkets.
Recommended Suppliers Contact:
(Please mention that you are donating to Thye Hua Kwan Nursing Home)
Company name: Vinda
Product: Tena Maxi Diapers Size M, L, XL
Contact person : Tricia
HP: 96209213
Email: tricia.soh@vinda.com
Company name: Abbott Laboratories (S) Pte Ltd
Product : Ensure, Glucerna
Contact person: Daphne
HP: 91553937
Email: daphne.loh@abbott.com
For Biscuits in Large Tins
For wholesale biscuits, you can contact
mailto:biscuitstory@hotmail.com
http://www.facebook.com/biscuitstory
Mailing
(By cheque)
Cheque should be crossed and made payable to "Thye Hua Kwan Nursing Home Limited – Hougang" and mailed to:
48 Hougang Avenue 8
Singapore 538793
Kindly indicate your full name, NRIC number, address, contact number so as to faciliate an offical receipt in return.