Via PAYNOW (digital bank transfer)
Using your mobile banking app, donations can be made to us via PAYNOW by scanning the QR code below or enter the UEN number: 201323219Z.
For tax deduction, please include your Name, NRIC and contact number in the reference box and send your donation details to Finance email: finance@thknh.org.sg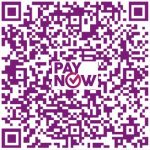 Online
Donations can be made through charity websites at giving.sg or give.asia
Walk-In
(By cash / cheque):
Donations can be made at our reception counter at Level 1 at THK Nursing Home @ Hougang, located at 48 Hougang Avenue 8, Singapore 538793.
In-Kind:
Donation Request List 2021
These are the items regularly used and consumed by our elderly residents (items 1 to 8)
Adult Diapers (Tena Brand – Sizes S, M & L)
Ensure Milk (Vanilla) powder for elderly to gain weight
Johnson & Johnson Baby Bath (1000ml)
Coffee (3 in 1)
Tea (Teabags)
Milo or Ovaltine (powder refill packets preferred or 3 in 1 packet)
Nutre Milk Cereals (in sachets)
Nestum (in sachets)
Biscuits (any type of slight cream is OK e.g lemon or wafer types) – in tins or packets
Tissue boxes
Toothpaste & toothbrushes
Disposable shavers for male residents.
Glucerna Milk powder for elderly with diabetes.
You can choose to purchase from any suppliers or supermarkets.
Recommended Suppliers Contact:
(Please mention that you are donating to Thye Hua Kwan Nursing Home)
Company name: Vinda
Product: Tena Maxi Diapers Size M, L, XL
Contact person : Tricia
HP: 96209213
Email: tricia.soh@vinda.com
Company name: Abbott Laboratories (S) Pte Ltd
Product : Ensure, Glucerna
Contact person: Daphne
HP: 91553937
Email: daphne.loh@abbott.com
For Biscuits in Large Tins
For wholesale biscuits, you can contact
mailto:biscuitstory@hotmail.com
http://www.facebook.com/biscuitstory
Mailing
(By cheque)
Cheque should be crossed and made payable to "Thye Hua Kwan Nursing Home Limited – Hougang" and mailed to:
48 Hougang Avenue 8
Singapore 538793
Kindly indicate your full name, NRIC number, address, contact number so as to faciliate an offical receipt in return.