As a non-profit
charity organisation in Singapore
, Thye Hua Kwan Nursing Home Limited appreciates and values the generosity of individuals and organisations in the community who support our programmes and facilities.
In an increasingly challenging eldercare industry where we cater to an array of complex needs, one of the greatest challenges is to remain sustainable and allow us to provide the best quality care for our patients.
Your donation, no matter how small can make a difference and is greatly appreciated. We are an IPC (Institution of a Public Character) registered organisation. Therefore, all monetary 
donations to our charity
will be tax-deductible. 
Via PAYNOW (digital bank transfer)
Using your mobile banking app, donations can be made to us via PAYNOW by scanning the QR code below.
For tax deduction, please include your Name, NRIC and contact number in the reference box.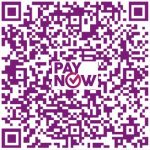 Online
Donations can be made through charity websites at giving.sg or give.asia
Walk-In
(By cash / cheque):
Donations can be made at our reception counter at Level 1 at THK Nursing Home @ Hougang, located at 48 Hougang Avenue 8, Singapore 538793.
In-Kind (Preferred Wishlist)
| | |
| --- | --- |
| 1 | TENA Diapers (M) |
| 2 | TENA Diapers (L) |
| 3 | Glucerna Milk Power (Tin) |
| 4 | Ensure Milk Powder (Tin) |
| 5 | Hospicare Wetwipes |
| 6 | Latex Examination Gloves (All Sizes) |
| 7 | Toothpaste and Toothbrush |
| 8 | Disposable Shaver |
| 9 | Milo Powder (Tin) |
Mailing
(By cheque)
Cheque should be crossed and made payable to "Thye Hua Kwan Nursing Home Limited – Hougang" and mailed to:
48 Hougang Avenue 8
Singapore 538793
Kindly indicate your full name, NRIC number, address, contact number so as to faciliate an offical receipt in return.